Mapping anhedonia onto reinforcement learning: a behavioural meta-analysis
Biology of Mood & Anxiety Disorders
2013
3:12
Received: 17 April 2012
Accepted: 9 May 2013
Published: 19 June 2013
Abstract
Background
Depression is characterised partly by blunted reactions to reward. However, tasks probing this deficiency have not distinguished insensitivity to reward from insensitivity to the prediction errors for reward that determine learning and are putatively reported by the phasic activity of dopamine neurons. We attempted to disentangle these factors with respect to anhedonia in the context of stress, Major Depressive Disorder (MDD), Bipolar Disorder (BPD) and a dopaminergic challenge.
Methods
Six behavioural datasets involving 392 experimental sessions were subjected to a model-based, Bayesian meta-analysis. Participants across all six studies performed a probabilistic reward task that used an asymmetric reinforcement schedule to assess reward learning. Healthy controls were tested under baseline conditions, stress or after receiving the dopamine D2 agonist pramipexole. In addition, participants with current or past MDD or BPD were evaluated. Reinforcement learning models isolated the contributions of variation in reward sensitivity and learning rate.
Results
MDD and anhedonia reduced reward sensitivity more than they affected the learning rate, while a low dose of the dopamine D2 agonist pramipexole showed the opposite pattern. Stress led to a pattern consistent with a mixed effect on reward sensitivity and learning rate.
Conclusion
Reward-related learning reflected at least two partially separable contributions. The first related to phasic prediction error signalling, and was preferentially modulated by a low dose of the dopamine agonist pramipexole. The second related directly to reward sensitivity, and was preferentially reduced in MDD and anhedonia. Stress altered both components. Collectively, these findings highlight the contribution of model-based reinforcement learning meta-analysis for dissecting anhedonic behavior.
Keywords
AnhedoniaMajor depressive disorderDepressionReinforcement learningReward learningPrediction errorComputationalMeta-analysisReward sensitivityLearning rate
Background
Anhedonia is one of the cardinal symptoms for a clinical diagnosis of major depressive disorder (MDD; [1–3]) and refers to an inability to experience pleasure or a diminished reactivity to pleasurable stimuli. It is typically measured by verbal reports. In people subjectively reporting anhedonia, reward feedback objectively has less impact in a variety of behavioural tasks [4–15]. However, modern accounts of decision-making distinguish structurally different ways in which this reduction might be realized, and precisely which of these is associated with anhedonia remains unclear.
Here, we attempt to distinguish two critical factors. The first factor is a reduction in the primary sensitivity to rewards. This is possibly the closest behavioural equivalent to the notion of a reduction in consummatory pleasure. Instruments measuring anhedonia, such as the relevant subscores of the Beck Depression Inventory [16] or the Mood and Anxiety Symptom Questionnaire (MASQ) [17] typically focus on this factor [18]. The second factor is an alteration in participants' ability to learn from reward feedback. This is emphasized by preclinical animal models of depression [19–22] and, because of the close association between dopamine (DA) signalling and reward learning [23–27], by neurobiological accounts linking anhedonia to DA [11, 14, 28–35]. It is most important to separate these factors, since they are likely to be associated with radically different ætiologies and therapeutic routes.
The distinction between these two factors is sharp in the mathematical formulation of reward learning based on prediction errors that underpins the account of DA activity [23–27], and is itself based on principles articulated in psychological [36] and engineering [37, 38] theories of learning. Consider an experiment in which a reward of a given magnitude is given stochastically on some trials: where r t =1 if the participant did receive the reward on trial t, and r t =0 if it did not. We write ρ for the value the participant assigns to this reward. The participants are assumed to build and maintain an expectation () of the average reward it might gain on this trial, by means of a prediction error on trial t which is the difference between the obtained ρ r t and expected reward. This prediction error can be used to improve the expectations adaptively [39] by adding the error to the previous expectation , where 0≤ϵ≤1 is a learning rate. This reduces the prediction error over time, at least on average.
The critical factors that might be associated with anhedonia are the two parameters ρ and ϵ in the above expressions. First, ρ is a measure of primary reward sensitivity – the larger ρ, the more sensitive the participant is to a reward of a given magnitude, or the greater the internal worth of an external reward. We comment on the difference between liking and wanting rewards later [40]. Second, the term ϵ governs how reward prediction errors influence learning. Evidence suggests that the phasic activity of DA cells is roughly proportional to δ t ; thus, alterations in the amount of DA released per spike, or in the sensitivity of postsynaptic receptors should behave like a change in the learning rate ϵ and affect the speed at which reward affects behaviour [41].
These quantities are formal parameters of a reinforcement learning rule. The question thus arises whether they can actually be distinguished in experimental practice. In this paper, we focus on objective measures of learning behavior. Crudely, since
ρ
only affects one term in
δ
t
, whereas
ϵ
controls the effect of the whole of
δ
t
on , these quantities are theoretically distinguishable. A change in reward sensitivity leads to the asymptotic average value of being different. However, a change in learning rate alters the speed at which this asymptote is reached. More particularly, if the behavioural impacts of anhedonia were due to a DA deficit, the extent of anhedonic symptoms might correlate preferentially with the learning rate
ϵ
. If instead its effects were due to a change in primary reward sensitivity, then one would expect the impact to concentrate on the reward sensitivity
ρ
. To examine this, we re-analyzed what is perhaps the most substantial body of data on reward learning in anhedonia, namely the probabilistic reward task of (Figure
1
A-B). Behaviour in this task has previously been quantified by dividing it into three blocks and examining the evolution of a response bias across the blocks (Figure
1
C). However, such measures cannot easily disentangle
ρ
and
ϵ
: Figure
1
D-E shows that varying both parameters can roughly qualitatively explain the observed patterns. However, there are subtle differences to do with the asymptote of learning that provide us with a window of opportunity.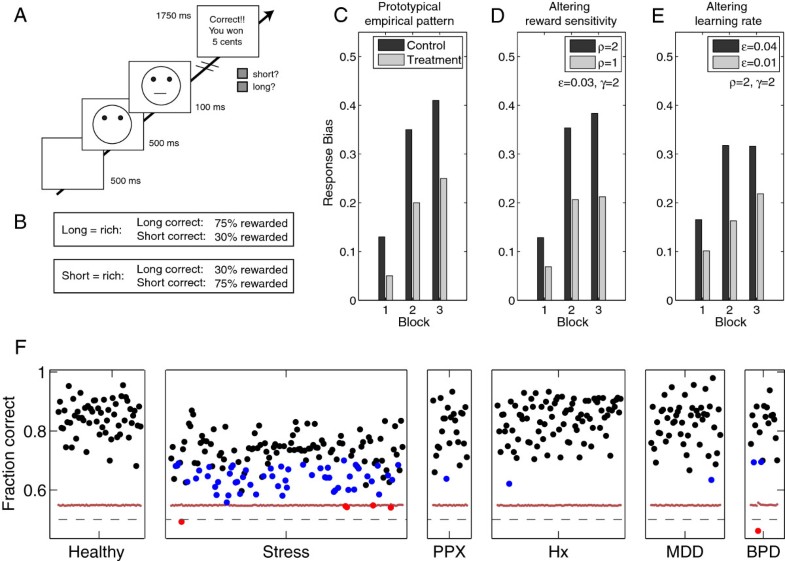 The fact that varying either parameter can lead to similar qualitative patterns shows that the two parameters play partially replaceable roles and may not be fully separable [42]. Any separation is likely to require substantial amounts of data. We therefore here fitted trial-by-trial individual reinforcement learning (RL) models in a meta-analytic manner to a series of six experiments involving 392 experimental sessions across 313 different participants. Model fitting allows for comprehensive tests of the ability of each hypothesis to account for the entire dataset. Bayesian model comparison ensures that the conclusions are based on parsimonious accounts of the data, avoiding overfitting and overly complex explanations [42–46].
To maximise the chance of identifying specific contributions of learning rate and reward sensitivity, we jointly analysed a series of datasets that are likely to differentially affect the two parameters (Table
1
). Three of these probed anhedonia in the context of depression; one in bipolar disorder. A further dataset probed the effect of a dopaminergic manipulation, which we expected to primarily affect
ϵ
. A final dataset probed the effect of stress, which is prominently involved in the pathogenesis of depression, and which we have previously suggested may reduce phasic DA bursts via an increase of tonic DA release [
47
].
Name

Manipulation

Reference

Participants #

Healthy

High vs low BDI scores

[10]

57

Healthy volunteers. Payment: US$5 and course credit.

MDD

MDD vs controls

[48]

48

23 participants during an episode of MDD and 25 controls matched for age, sex, education, ethnicity and marital status. MDD participants met DSM-IV criteria for MDD, had Hamilton Rating Scale for depression scores ≥ 17, and no other axis I comorbidities except for anxiety. Inclusion required a minimal drug-free period of 2 weeks. Payment: US$10/hour plus 5US$ average task earnings.

Hx

History of MDD vs no history

[49]

85

Currently healthy participants with and without a history of major depressive disorder (MDD). Participants received US$15/hr in compensation for their time, as well as their task "earnings" (on average, US$5).

BPD

BPD vs controls

[50]

19

Euthymic outpatients (matched to the same 25 controls as in dataset 'MDD'). The outpatients had a long-standing diagnosis of Bipolar Disorder, currently satisfying criteria on the Affective Disorder Evaluation, which contains modified SCID mood and psychosis modules. Patients were classified as euthymic if they currently Young Mania Rating Scale [51] score <12, and if their Hamilton Rating Scale for Depression [52] score was below 8. Exclusion criteria included other axis I disorders, a past history of MDD, substance abuse and ECT in the past 6 months. Participants were paid US$25 for participation and task earnings.

PPX

Pramipexole vs placebo

[53]

24

Healthy volunteers received either placebo or a single dose of the D2/D3 agonist pramipexole hydrochloride (PPX) 0.5 mg 2 hours prior to the task. At this low dose, PPX is thought to reduce phasic DA release through autoreceptor stimulation. Payment: US$ 40 for the pharmacological session and US$24.60 for the task session.

Stress

Threat-of-shock acute vs no stressor

[54]

79(x2) +1

Healthy volunteers took part in the task twice (one missing session), once in a no-stress condition and once in a stress condition. Participants were told that poor performance on the task might lead to a shock being delivered through electrodes attached to the back of their neck. In the stress condition, they were told that this was quite likely, whereas they were told that no shock would be delived in the no-stress condition. No shocks were actually delivered. Notably, the version of the task used in this study was more difficult, with the difference in size between long and short mouth being smaller. This resulted in fewer correct discriminations (see Figure 1F). Payment: either course credit or US$10/hour as well as money "won" during the task (US$10.60 on average).
Our main result is that measures of anhedonia and depression preferentially affected the reward sensitivity ρ, while a dopamine manipulation by pramipexole mainly affected the learning rate ϵ. Stress, however, affected both reward sensitivity and the learning rate. There was no difference in these two parameters in euthymic bipolar individuals, or those with a past history of depression.
Results
Model validation
We built a set of models that embody key hypotheses about the course of learning in the different groups and fitted them to the data. The models parameterize the type of learning performed by participants, allowing us to assess whether they attach rewards to stimulus-action pairs; or just to actions, or to a mixture of the two. We also test the status of 'no reward': do participants treat this outcome as a punishment, reducing the probability of the associated action, or do they treat it as a non-informative null outcome, as intended?
Since we are interested in understanding the characteristics of groups of individuals, we need to ascertain at the group, rather than at the individual level, which model does best [43, 45, 58]. We indeed found that, taking suitable account of complexity, a single model did capture all groups satisfactorily, allowing for a common and interpretable semantics for the parameters. These so-called random effects models capture inter-subject variation in a way that allows for differences in the extent to which individual participants' data constrain the parameters. When we perform correlation analyses (below), we weigh parameters according to the precision with which they were inferred.
The results are shown in Figure
2
A. The most parsimonious account of the data was provided by model 'Belief'. This conclusion rests on the group-level Bayes factors iBIC (see Methods and Additional file
1
for further details). This compares the approximate posterior probability of each model given the data to that of model 'Belief'. Two key aspects of this quantity are that 1) it punishes overly complex models; 2) it assesses this at the group, rather than the individual level. The higher this number, the poorer the combination of model fit and model simplicity. Differences above 10 are typically considered to be strong evidence for one model over the other [
43
].

Both the standard Rescorla-Wagner model 'Stimulus-action' with separate stimulus-choice values , and model 'Punishment', which treats trials on which no reward was given as punishing, performed poorly with much worse iBIC values. This suggests that participants were not able to treat the two stimuli as entirely separate; and that they did not treat the absence of rewards as punishments with aversive properties. Model 'Action', which assumes that participants learn only action values, and thus do not separate between stimuli at all in the asymmetric component of choice (ζ=0.5) was an improvement over the basic model 'Stimulus-action' (ζ=1) but came a distant second to the model 'Belief' (ζ inferred for each session). Indeed, the belief parameter ζ was broadly distributed around 0.5 (mean 0.53, standard deviation 0.13). That is, on average, participants behave as model 'Action', neglecting the stimuli when learning and forming expectations. Individually, however, there was variability in how well they were able to discriminate the stimuli.
Figure 1F shows the probability of performing a correct choice for all participants in all datasets, with those not predicted better than chance by model 'Belief' circled in blue. This model correctly predicted significantly more choices than chance (binomial test, p<.05) for most experimental sessions (329 out of 392; black dots). Due to a smaller difference between long and short mouth, and hence a more difficult perceptual discrimination problem (Table 1), participants in the stress dataset– whether in the stress or the no stress condition–showed on average a lower probability of correct choice. They were consequently less well predicted by all models, but model 'Belief' still gave the best account of these data too (see Additional file 1: Section S2.1). Figure 2B shows that, as intended, the overall probability correct was captured by the instruction sensitivity parameter γ (Pearson correlation 0.93, p<10−20), which in turn frees the other parameters to capture trial-to-trial variation in the behaviour contingent on the reward outcomes.
Finally, Additional file 1: Section S2.2 also provides the results of a resampling analysis. This shows that if the model is run on the task, it spontaneously generates data that looks similar to the experimental data.
Regression analyses
Given that model 'Belief' captured the data satisfactorily, we proceeded to analyse the relationship between model parameters and self-report questionnaire measures. Our aims were primarily to identify correlations between measures of anhedonia and learning rates or reward sensitivities. A standard, unweighted, multiple linear regression analysis revealed a significant negative correlation between ρ and anhedonic depression (AD), the most specific measure of anhedonic symptoms available to us (p=0.004; uncorrected for multiple comparisons). There was no correlation between ρ and other questionnaire measures, and no correlation between the questionairre measures and the learning rate ϵ (all p>0.1). Participants in the 'Stress' dataset were tested twice. Repeating this analysis using only the session without stress yielded similar results (p=0.007 for the correlation ρ vs AD, all other p>0.09).
As expected, questionnaire scores were substantially correlated (Figure
3
A), and the parameters of different experimental sessions were inferred with varying certainty. We therefore additionally orthogonalized the three anhedonic measures (BDA, GDD, AD) with respect to all the three other measures (BDI\A, AA, GDA) and fit a weighted generalised linear model (GLM). Figure
3
B shows that anhedonic depression AD remained significantly and negatively related to the reward sensitivity
ρ
(
p
=0.005, Bonferroni-corrected for 8 comparisons). No other correlation survived correction for multiple comparisons (all
p
>0.1). In particular, no measure of anhedonia was associated with the learning rate
ϵ
. Figure
3
C shows a scatter plot of AD scores vs. reward sensitivity with dot size proportional to the weight (inverse variance) in the weighted regression analysis.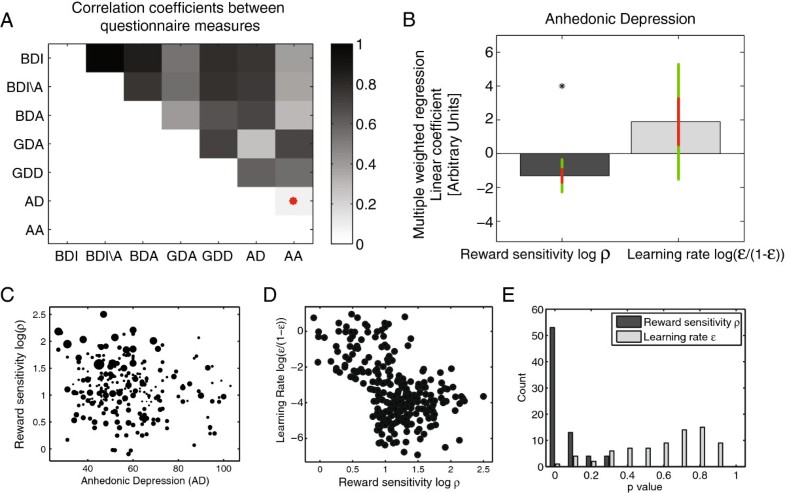 Next, there was a negative linear correlation between ρ and ϵ of -0.41 (p<0.0001; Figure 3D). To further question the selectivity of the correlation between AD and ρ, we orthogonalized ρ with respect to ϵ in addition to orthogonalising as above. This again yielded an (unweighted) significant correlation of AD with ρ (p=0.004, multiple weighted linear regression, uncorrected for multiple comparisons), with no other correlations significant. The reverse orthogonalization did not yield any significant correlations with ϵ.
At least part of the correlation between ρ and ϵ arises because the the two parameters can explain similar features of the data, i.e. alterations in one parameter can be compensated for by alterations in the other parameter (see Figure 1). To establish whether the association between AD and the reward sensitivity parameter was due to real features in the data, rather than due to inference issues, we asked whether the correlations with questionnaire measures remained stable and identifiable in the surrogate data. For each of the 70 surrogate datasets of 392 experimental sessions, we repeated the standard, unweighted multiple linear regression. Figure 3E shows the distribution of p values for the correlation of AD with ρ and ϵ. While the median p value for the correlation between ρ and AD was 0.04, that for ϵ and AD was 0.71.
Finally, all correlation analyses using the reward sensitivity and learning parameters inferred from the second-best model 'Action' yielded the same results, showing that the results are not dependent on a particular model formulation.
Categorical comparisons
We next examined how learning rate and reward sensitivity were affected by the factors explored in each of the individual datasets. For each dataset, we compared two models: one which assumes that the two experimental groups differed in terms of ρ, the other in terms of ϵ.
Figure
4
shows the Bayes factors for models compared with for each of the individual datasets. Given the correlation results, we additionally performed a comparison between all participants with the 20% highest and lowest AD scores. Bayes factors above 20 (or below 1/20) are very strong evidence in favour of a hypothesis [
43
], while likelihood ratios of 3 to 10 (or the inverse) are weak evidence. We found strong evidence that MDD and AD were better accounted for by a change in reward sensitivity
ρ
, rather than learning rate
ϵ
. The opposite was true for pramipexole, which mainly acted by reducing the learning rate
ϵ
.

However, the Bayes factors comparing models and to the basic 'Belief' model without split parameters were all ≤3. This means that there was no strong evidence that either of these parameters categorically separates any two groups. Stress appeared most likely to have a genuinely shared effect on both parameters. Participants with a history of depression, or currently euthymic bipolar participants showed weak evidence of reductions in reward sensitivity. Note that all these ratios are by necessity numerically more modest than those in Additional file 1: Figure S1 because they are inferred from far less data.
Discussion
Our results suggest that anhedonia (as measured by AD) and MDD affect appetitive learning more by reducing the primary sensitivity to rewards ρ than by affecting the learning rates. Non-significant trends for such an effect were observed for participants with a past history of depression, and amongst euthymic bipolar disorder patients. By contrast, a dopaminergic manipulation was found to preferentially affect the speed of learning, ϵ. Acute stress had no preferential effect on reward sensitivity or learning rate. These two parameters appear to be state, rather than trait measures: Neither a past history of depression, nor one of BPD, had a significant effect on ρ or ϵ.
Conclusions
This paper presented a model-based meta-analysis of behavioural data spanning several related manipulations and adds to a growing literature of behavioural correlates of depression [64, 128]. We concluded that anhedonia in depressive states was mediated by a change in reward sensitivity, which has different behavioural consequences from either stress or DA manipulations. Our analysis allowed us to draw these conclusions while taking into account as much as possible the variability between the datasets and participants; and the variability in other, unrelated aspects of task performance. We believe that similar analyses could be readily applied to other datasets. We hope that our findings will encourage the re-analysis of the dissociation between reward sensitivity and dopaminergic processes in depressive states.
Declarations
Acknowledgements
The authors would like to thank the member of the Affective Neuroscience Laboratory for their assistance with collection of the data analysed in this manuscript.
Funding
Funding from the Gatsby Charitable Foundation (QH, PD) and Deutsche Forschungsgemeinschaft DFG GZ RA/1047/2-1 (QH). Collection of datasets presented in the current manuscript was supported by grants from the National Institute of Mental Health (R01 MH068376, R21 MH078979, R01 MH095809) and National Center for Complementary & Alternative Medicine (R21AT002974) awarded to DAP. DAP has also received consulting fees from ANT North America Inc. (Advanced Neuro Technology), AstraZeneca, Ono Pharma USA, Shire and Servier, as well as honoraria from AstraZeneca for projects unrelated to this study.
Authors' Affiliations
(1)
Gatsby Computational Neuroscience Unit, UCL, London, UK
(2)
Wellcome Trust Centre for Neuroimaging, UCL, London, UK
(3)
Translational Neuromodeling Unit, University of Zurich and ETH Zurich, Switzerland
(4)
Department of Psychiatry, Psychotherapy and Psychosomatics, University Hospital of Psychiatry, Zurich, Switzerland
(5)
Department of Psychiatry, Harvard Medical School, USA
(6)
Department of Psychology and Neuroscience, Duke University, USA
Copyright
© Huys et al.; licensee BioMed Central Ltd. 2013
This article is published under license to BioMed Central Ltd. This is an Open Access article distributed under the terms of the Creative Commons Attribution License (http://creativecommons.org/licenses/by/2.0), which permits unrestricted use, distribution, and reproduction in any medium, provided the original work is properly cited.