Translational neuroscience measures of fear conditioning across development: applications to high-risk children and adolescents
Biology of Mood & Anxiety Disorders
2013
3:17
Received: 18 February 2013
Accepted: 25 June 2013
Published: 1 September 2013
Abstract
Several mental illnesses, including anxiety, can manifest during development, with onsets in late childhood. Understanding the neurobiological underpinnings of risk for anxiety is of crucial importance for early prevention and intervention approaches. Translational neuroscience offers tools to investigate such mechanisms in human and animal models. The current review describes paradigms derived from neuroscience, such as fear conditioning and extinction and overviews studies that have used these paradigms in animals and humans across development. The review also briefly discusses developmental trajectories of the relevant neural circuits and the emergence of clinical anxiety. Future studies should focus on developmental changes in these paradigms, paying close attention to neurobiological and hormonal changes associated with childhood and adolescence.
Keywords
Anxiety disordersDevelopmentChildhoodAdolescenceFear conditioningExtinction
Conclusions
To summarize, the neuroimaging and psychophysiological evidence points to dysregulations in the development of the amygdala and PFC, as well as their connections, as the neural bases for heightened fear responses during fear conditioning and impaired fear inhibition during extinction in children and adolescents at high risk for anxiety disorders. These effects may also differ between male and female individuals; however, these differences may emerge only after puberty. Translational neuroscience models offer a unique opportunity to better understand the neurobiological underpinnings of anxiety disorders through development and puberty. The fear conditioning paradigms described in this review can be used across species and at different stages of development, and provide valuable observable phenotypes. Because they measure outputs of brain circuits associated with fear and anxiety, they are sensitive to the psychopathology of anxiety disorders. Figure
3
shows a theoretical model of the interactions of genetic, environmental, and neuroendocrine factors on neural development and risk phenotypes. Disentangling effects of age from puberty will be important in future approaches aimed at delineating developmental trajectories in healthy and at-risk children and adolescents. In addition to offering insight into abnormalities in these circuits, these paradigms can also point to novel therapeutic targets. The plasticity of fear conditioning and extinction provides a mechanism for early prevention and intervention strategies. Future studies should focus on developmental changes in these paradigms, paying close attention to neurobiological and hormonal changes associated with childhood and adolescence.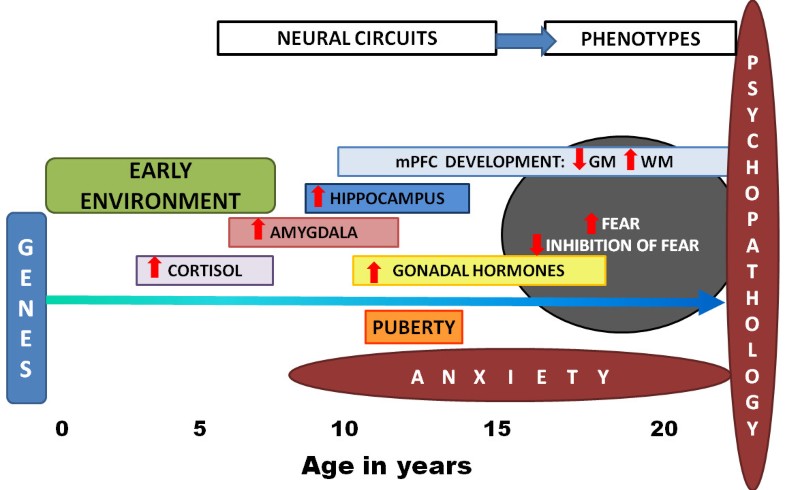 Abbreviations
ACC:

Anterior cingulate cortex
BDNF:

Brain-derived neurotrophic factor
BNST:

Bed nucleus of the stria terminalis
CS:

Conditioned stimulus
fMRI:

Functional magnetic resonance imaging
PN:

Postnatal
mPFC:

Medial prefrontal cortex
MRI:

Magnetic resonance imaging
PET:

Positron emission tomography
PTSD:

Post-traumatic stress disorder
SCR:

Skin conductance response
US:

Unconditioned stimulus
vmPFC:

Ventromedial prefrontal cortex.
Declarations
Acknowledgements
This work was supported by funding from the National Alliance for Schizophrenia and Anxiety Disorders (NARSAD) and National Institutes of Health (NIH) grants MH 98212 and MH100122 to T.J.
Authors' Affiliations
(1)
Department of Psychiatry and Behavioral Sciences, Emory University School of Medicine, Atlanta, USA
Copyright
© Jovanovic et al.; licensee BioMed Central Ltd. 2013
This article is published under license to BioMed Central Ltd. This is an Open Access article distributed under the terms of the Creative Commons Attribution License (http://creativecommons.org/licenses/by/2.0), which permits unrestricted use, distribution, and reproduction in any medium, provided the original work is properly cited.