Sex differences, gonadal hormones and the fear extinction network: implications for anxiety disorders
Biology of Mood & Anxiety Disorders
2012
2:3
Received: 27 September 2011
Accepted: 7 February 2012
Published: 7 February 2012
Abstract
Convergent data from rodents and human studies have led to the development of models describing the neural mechanisms of fear extinction. Key components of the now well-characterized fear extinction network include the amygdala, hippocampus, and medial prefrontal cortical regions. These models are fueling novel hypotheses that are currently being tested with much refined experimental tools to examine the interactions within this network. Lagging far behind, however, is the examination of sex differences in this network and how sex hormones influence the functional activity and reactivity of these brain regions in the context of fear inhibition. Indeed, there is a large body of literature suggesting that sex hormones, such as estrogen, do modulate neural plasticity within the fear extinction network, especially in the hippocampus.
After a brief overview of the fear extinction network, we summarize what is currently known about sex differences in fear extinction and the influence of gonadal hormones on the fear extinction network. We then go on to propose possible mechanisms by which sex hormones, such as estrogen, may influence neural plasticity within the fear extinction network. We end with a discussion of how knowledge to be gained from developing this line of research may have significant ramifications towards the etiology, epidemiology and treatment of anxiety disorders.
Keywords
menstrual cycle
sex hormones
estrogen
progesterone
estrus cycle
fear extinction
Background
There are now substantial data indicating that structural, cellular and molecular differences exist between the male and female brains in regions that are important for cognition, memory and affect, such as the hippocampus, amygdala and prefrontal cortex. Some of these differences may have clinical relevance, as marked disparities in disease incidence, manifestation, prognosis and treatment have been observed between the sexes. For example, men have a higher prevalence of conditions that emerge early in development, such as autism, attention deficit hyperactivity disorder and schizophrenia. Women, on the other hand, have a higher prevalence of disorders that emerge in adolescence or adulthood, such as major depression and anxiety disorders. Surprisingly, very little is known about the neural mechanisms that underlie the expression of sex differences in psychiatric disorders. A 2001 report by the Institute of Medicine highlighted the need to conduct scientific studies at the cellular, molecular and whole organism level that take into account sex as a variable to investigate the neural mechanisms that lead to epidemiological differences in psychiatric disorders.
The need to examine sex differences in the network mediating fear learning and its extinction can be surmised from two different perspectives. From a clinical perspective, we need to understand what contributes to the significant epidemiological differences in psychiatric disorders that are characterized by exaggerated fear and anxiety, such as post traumatic stress disorder. From a basic neuroscience perspective, it is essential that we understand how male and female brains differ in processing fundamental neurobiological phenomena such as emotional learning and memory. There is now a clear indication that failure in the function of brain regions that mediate fear learning and fear inhibition may be associated with the psychopathology of anxiety disorders [
1
–
5
]. Sexual dimorphism in the amygdala, hippocampus and medial prefrontal cortices is well documented [
6
,
7
]. These brain regions also contain elevated levels of estrogen receptors [
8
–
10
]. Thus, the structural and functional differences in these brain regions between the sexes may explain in part, or contribute to, some of the basic and clinical differences observed between men and women. In examining the literature pertinent to learning and memory, fear conditioning, and fear extinction, it is astonishing to note that of all that we have learned about these processes, less than 2% of this research has been focused on the female brain (Figure
1
).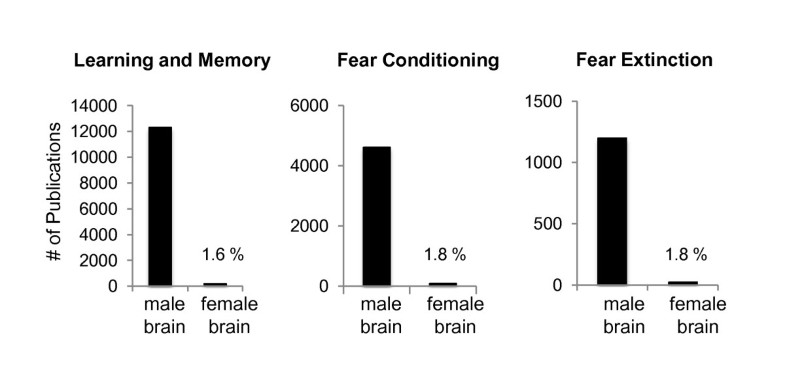 Conclusions
The data reviewed herein point to clear sex differences in, and clear influence of, sex hormones, especially estrogen, on fear extinction. The data discussed show that sex hormones may have direct effects on the molecular machinery mediating synaptic plasticity in the hippocampus, and the vmPFC during fear extinction. These data also point to significant clinical implications. Future studies need to develop paradigms to test specific hypotheses based on what we know thus far. For example, does estrogen serve a protective function against elevated fear and anxiety? Could transient periods of low estradiol levels be associated with impaired retention of safety memory? In addition, fear extinction in women using oral contraceptives and in menopausal women with and without hormone replacement therapy should be examined. This is especially important given that the use of oral and intrauterine contraceptives is known to reduce endogenous cycling estradiol levels [156]. Moreover, women appear to be vulnerable to developing mood and anxiety disorders during postpartum [157, 158] and menopausal periods [159–163] when endogenous estradiol levels are low. Additional studies investigating the effects of cycling sex hormones and exogenous manipulations of these hormones in animal models of fear inhibition could potentially introduce ways to adapt, improve or produce therapies specifically tailored to women.
Abbreviations
BDNF:

brain-derived neurotrophic factor
BLA:

basolateral amygdala
cAMP:

cyclic adenosine monophosphate
DHT:

dihydrotestoterone
EGR-1:

early growth response protein 1
ERα:

estrogen receptors alpha
ERβ:

estrogen receptor beta
fMRI:

functional magnetic resonance neuroimaging
GAD:

generalize anxiety disorders
IL:

infralimbic
ITC:

intercalated GABAergic neurons
LTP:

long-term potentiation
MAP kinase:

mitogen activated protein
NMDAr:

N-Methyl-D-aspartic acid receptor
OFC:

orbitofrontal cortex
PI 3-kinase:

phosphoinositide 3-kinase
PTSD:

posttraumatic stress disorders
US:

unconditioned stimulus
vmPFC:

ventromedial prefrontal cortex
Declarations
Acknowledgements
We would like to thank Bronwyn Graham, PhD and Alina Tsareva, BS for helpful comments on this manuscript. MRM is supported by NIH grants K01-MH08036 and R01-MH081975 (MGH subcontract), and Department of Defense grant W81XWH-11-2-0079.
Endnotes
There are no endnotes for this manuscript.
Authors' Affiliations
(1)
Department of Psychiatry, Harvard Medical School & Massachusetts General Hospital, Boston, USA
Copyright
© Lebron-Milad and Milad; licensee BioMed Central Ltd. 2012
This article is published under license to BioMed Central Ltd. This is an Open Access article distributed under the terms of the Creative Commons Attribution License (http://creativecommons.org/licenses/by/2.0), which permits unrestricted use, distribution, and reproduction in any medium, provided the original work is properly cited.